Halloween Event


Added a similar event to what RuneScape 3 is currently having with exact Death's dialogue. It can be found north of Draynor Village;
Stabilize pillars for EXP in one of the 7 available skills there to train and receive 5 points per action with a daily cap of 100 actions (with a total cap of 500 points per day);
Points can then be used to browse the Halloween point exchange shop by choosing the 'Do I have any rewards to claim' dialogue option with Death;
The Event will be removed on the 15th of November, so make sure to spend all your Halloween Points until then!
Falador Achievement Diaries & Related (not yet fully complete)


Easy & Medium tasks are now doable alongside their rewards;
All NPC dialogues and related content is now fully functional;
Hard & Elite tasks will be finished in the upcoming days.
Miscellaneous


Upgraded from cache revision 897 to 899 (current RuneScape 3 version). If anyone's having issues with the cache updating, our Download page now contains the FULL cache in a zip. So, if you want a solid game experience you may download it, place it in your user folder and simply extract it there;
Filtered Treasure trail server announcements to only announce dyes, second and third-age pieces instead of ALL rare items;
Created a super flexible system to handle special item re-charging/re-pairing (hydrix jewellery, plasmators, etc.);
The Balthazar's Raffle will now only run for the first 10 days of every Month to keep consistency of the rewards (automated);
Heavily increased the dyed T90 repairing costs;
Combat EXP drops will now be attuned to the final damage hit-splat you've done, so, if the Entity is capped at 0 damage, you will gain no EXP;
Gertrude at Varrock (Gertrude's Cat quest start) will now sell consumables and all kinds of different unlockable pet kittens;
Players may now smelt blurite ore, and then smith those bars into blurite limbs or unfinished blurite bolts;
You may now fully craft Bullseye lanterns, by smithing the frame out of a steel bar, then using it with a lantern lens, filling up your lamp oil still in Rimmington and then using the empty ones on the lamp still to fill them up with oil (any lanterns that require lamp oil will fill them up);
Cloth Looms are now fully functional with all their regular cloth products alongside 9 new milestone capes that can be crafted at the corresponding Crafting levels, but worn only when all skills are higher than the cape's name suggests.
Fixes


Fixed the Bank Search option (for the most part). You will now be able to search for a set of items and withdraw them without the search box closing;
Fixed a bunch of issues with interfaces not closing properly/checking before new ones are opened;
Araxxi's dead body (rewards chest) object will no longer be clipped, meaning, you'll be able to walk through it IF it somehow spawns on top of you;
Fixed repairing broken Book's of Death not consuming any Deaths Notes;


Fixed attuned ecto-plasmators completely blocking out any drop from any mob, also made them only degrade when they do something rather than on incoming-hit while in combat;
Fixed an issue with special Slayer monsters not dying even though the player had the right equipment to kill them;
Entering Nex's lobby down from her Boss room will now immediately remove you as her target, she will no longer follow you;
Fixed Tainted Reprisers from not counting as T70 defenders to receive an Ancient Emblem drop from Nex;
Item drops from NPC's requiring a task or special items to obtain will now re-roll properly;
Fixed Musa Point Custom's officer taking you to Brimhaven Port rather than back to Port Sarim;
Fixed Glassblowing products (removed potion flasks and added candle lanterns + lantern lenses);
Added Falador South wall's Agility shortcut;
Added the Falador North wall's grapple Agility shortcut.
Side Note
Sorry the update took so long, I've been running through a lot of doctors, been to the hospital a couple times already. Generally just feeling pain, and it really threw me off. All in all, I'm getting better. Nothing to worry about!
P.S. A massive THANK YOU, to whom supported me financially. It really helped me out!
- Media -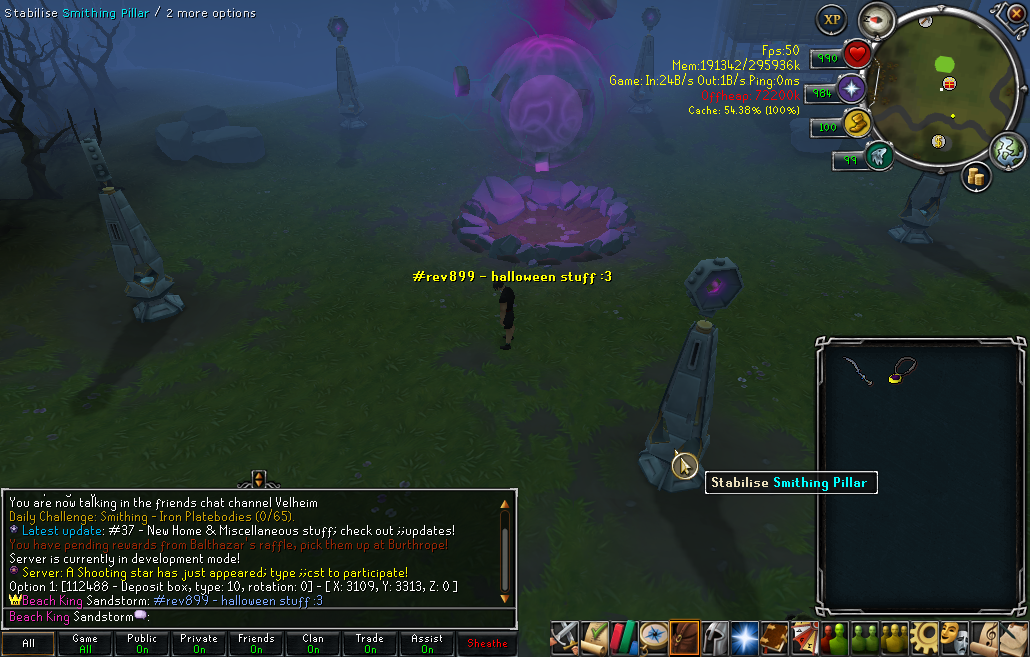 ------------------------------------------------------------------------------------------------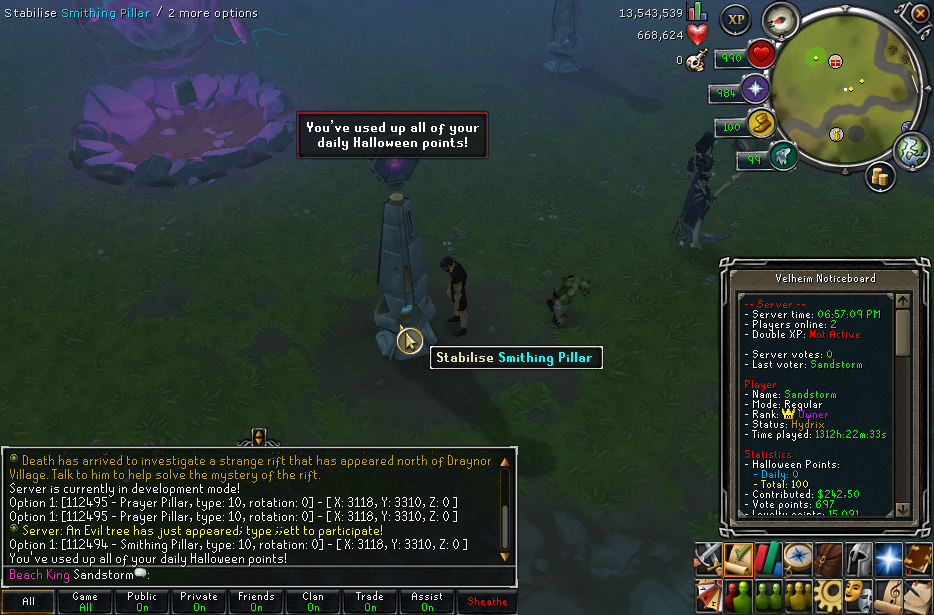 ------------------------------------------------------------------------------------------------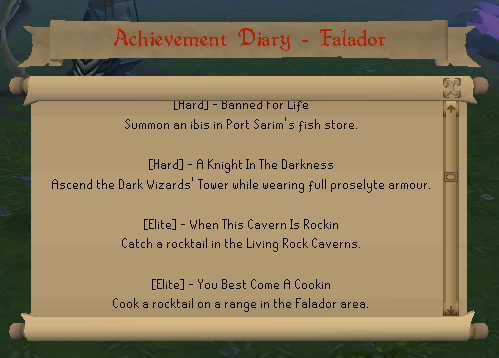 ------------------------------------------------------------------------------------------------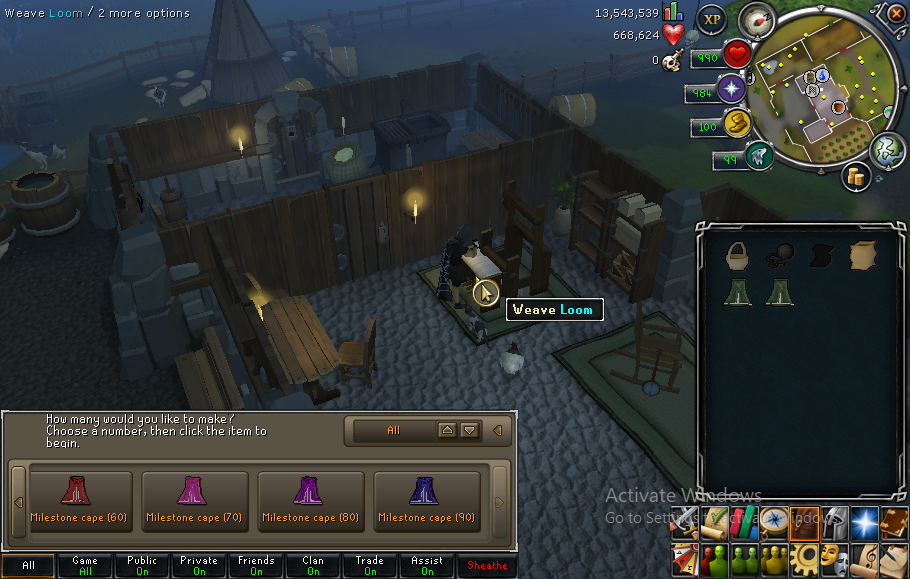 ------------------------------------------------------------------------------------------------