Smithing
Players may now Smelt Glorious bars at any furnace. They require 50 of each core bar per bar and grant a hefty amount of Smithing EXP. These bars ARE trade-able;
Glorious bars can then be used to Smith Masterwork armour. You'll also need the corresponding elder rune + 5 item, some leather and masterwork rivets to start;
Masterwork rivets can now be smelt from Steel bars at a 1:10 ratio and are not trade-able;
Masterwork armour is trade-able, and will degrade after 100'000 charges in combat. Masterwork pieces can be repaired by visiting Bob;
Malevolent and Torva equipment can now be used on any Anvil in-game to break the pieces down into malevolent and praesulic essence accordingly;
These essences can then be used on any Furnace in-game along with an Elder rune bar in your Metal bank to create Masterwork trims;
Masterwork trims can then be used to upgrade your Masterwork armour by using the corresponding equipment piece on any Anvil in-game;
Trimmed Masterwork armour is trade-able, and will degrade after 100'000 charges in combat. Trimmed Masterwork pieces can be repaired by visiting Bob;
Even further increased the Smithing base EXP for better ratios Mining:Smithing;
Fixed Gold bar and Silver bar smelting. They should now appear in your Metal banks correctly;
Fixed Smithing (tier 50 and below) when on exact Smithing level required to make items.
Mining
Added double ore Mining chance for all core ore rocks;
Slightly increased the Shooting star mining speed;
Fixed Essence mining;
Increased the speed of Divine location mining.
Wyson the Gardener
Added Wyson the Gardener at Falador Park, near Giant Mole's entrance with his full RuneScape 3 dialogue;
Wyson may exchange your mole skins, claws and even noses (if you've completed the Elite Falador diaries) for Bird Nest's containing seeds;
If you've completed the Falador Hard diaries, for every mole skin exchanged you will also receive a White Lily seed;
You may also buy Woad Leaf's for whatever reason you would need them.
Miscellaneous
Creating the full set of Masterwork armour is now a requirement for Completionist cape;
The Asgarnian Ice dungeon is now single-way combat zone;
You may now use color dyes to recolor basic capes;
Finished the Falador Achievement diaries. Finishing these diaries are now a requirement for the Completionists cape;
Buying a Skillcape from the Wise Old Man will now give both skillcape versions (trimmed, untrimmed) along with the corresponding hood (instead of having 3 separate shops);
All Spirit shields (Arcane, Spectral, Divine & Elysian) will now negate 30% of all incoming damage and drain 6% Prayer points based off the original incoming damage. Damage negation will only activate if the Player has enough Prayer points available;
All PvP armour (vesta's, morrigan's, etc.) that have not yet been used in combat will now be trade-able;
You may now use Fishing explosives purchased from any Slayer Master to summon Mogres at the Mudskipper point. They drop a lot of good Farming seeds as well as Mudskipper hat and flippers!
Fixes
Half-degraded crystal items are no longer tradable;
Changed all old Smithable item id's that were in: Grand Exchange box sets, Treasure trails, Warriors guild, and probably more I forgot;
Fixed the Asgarnian Ice Dungeon Wyvern Agility shortcut;
Fixed the Ibis, Beaver and Macaw Summoning Familiars;
Fixed the Living Rock Cavern concentrated deposit rocks;
Fixed the Master Capes store wrong item id's;
You may now once again create Divine Shark bubbles;
Started Pottery Urns will no longer fill themselves up while doing different Skills;
Fixed an issue with the Large Rune pouch providing unlimited runes;
Bonfire health boost will now apply on the 5th log burnt instead of 6th;
Fixed all Draynor Village house staircases;
Fixed Godsword shard/blade creating (it was impossible to do 2 + 3 then + 1);
Charms dropped by Tzhaar monsters in the Tzhaar city will now correctly drop even if the player doesn't have a charm collecting item/perk.
P.S. From here and onward I'll be working more on the PVM aspect of Velheim as I've been too focused on the skilling part. Expect new Slayer monsters, tasks and perhaps even a couple new end-game bosses!
If Jagex releases any new content, all current work will be put on hold until Velheim has it released first. Reason being, I'd like Velheim to stay the most advanced high-revision private server out there and not let anyone else surpass us
.
- Media -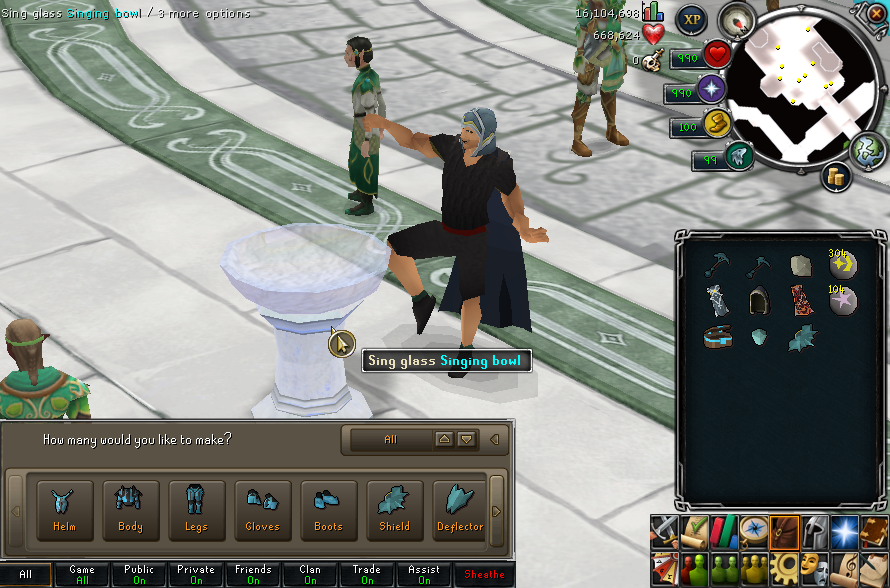 --------------------------------------------------------------------------------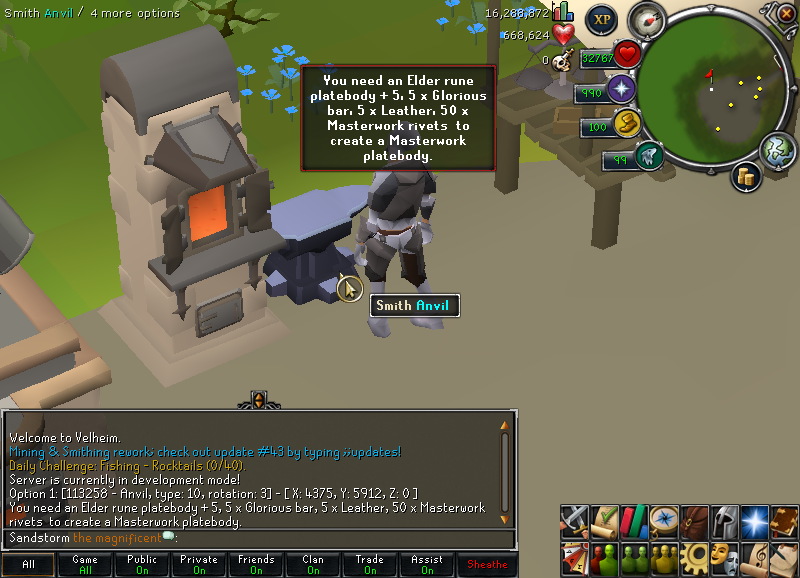 --------------------------------------------------------------------------------