Combat related
Consuming food will no longer increase combat delay;
Most of Velheim's boss monsters will now ignore Entity collision, meaning you will no longer be able to 'trap' or 'safe-spot' them behind other Entities;
You may now 'tag' (attack) multiple NPC's even in single-way combat zones. However, if you're already in combat - aggressive NPC's will not attack you.
Potions
Added 25 new potions that can be mixed via Herblore using pre-existing potions and empty Crystal flasks. For more information visit the wikipedia - Combination potions;
9 of the new potion recipes will have to be 'found' via Dungeoneering rewards store. Each page costs 500k Dungeoneering tokens and will unlock one of the 9 recipes randomly;
Potion recipes (including Dungeoneering found ones) will have to be unlocked (purchased) by visiting one of the Harmony Pillar farmers at Prifddinas in the Meilyr clan district. The shop will only show the recipes you have not yet unlocked and will notify you once you've unlocked all of them;
Unlocking all recipes is now a Completionist cape requirement;
Adjusted all existing combat-potion boost formulas to RuneScape 3 values;
Overload effect will now last for 6 minutes instead of 5;
Increased super anti-poison timer from 3 to 5 minutes;
Super saradomin brews can now be made by adding wine of saradomin to saradomin brews (3);
Saradomin brews will now heal a static amount of 100, and super saradomin brews will heal 130. Hitpoints can still be boosted above max;
Players will now be able to re-overload themselves whenever they want to without restrictions (times won't stack however).
Dungeoneering
Opening Skill doors while inside Dungeoneering will now be handled via EXP Lamp formula rather than regular. This is to prevent the rolls of Skilling pets and using bonus EXP;
Having the Quick teleportation unlocked in Dungeoneering will no longer require the player to have a Magic level to use;
Bulwark beast's armour plates will now be able to be chipped off with the pickaxe from your toolbelt. The damage will be scaled off of the pickaxes level. Also made the messages more distinct so players know how to deal with him and what's going on;
Mysterious Shades will now attack with Magic properly;
Forgotten Mages can now cast their Magic spells from afar;
Added a lot of missing NPC combat animations.
Godwars
Players will no longer be able to exit a boss room once inside, they will have to use the teleport option on the altar, or teleport out by any other method;
Public rooms will no longer have unlimited Prayer recharging, instead, you will only be able to recharge your Prayer points once every 10 minutes.
Slightly nerfed all Godwars Dungeon (gwd1 and gwd2) boss max hits.
Treasure Trails
Cleaned up a lot of old code and generally improved how everything was handled;
Replaced the one static puzzle box with 6 new puzzle boxes with randomly generated tiles;
Added puzzle-skipping tickets to ALL RARE clue reward tables (easy-master). These tickets may be used to skip one un-solved puzzle box in your inventory;
Puzzle boxes can no longer be banked, nor dropped;
Slightly reduced the total maximum steps for all Clue tiers.
Vorago
Starting challenge damage reduced from 5'000 to 3'000. Meaning - he is now duo'able if the players have topped their hitpoints with various boosts;
Redid the way phase-transitions worked; Vorago should now properly start jumping around the platform to move to next phase.
Miscellaneous
Added sky-box messages on resizable mode to these interactions: toggling auto retaliate, trying to pick up a ground item with full inventory, trying to open the world map while in combat, trying to teleport away from wilderness; trying to harvest pickables with a full inventory;
Improved the Gnome Glider network with new locations and fixed interfaces;
Populated the Lumbridge Swamp with item and NPC spawns;
Populated the Lunar Isle's ship (Lady Vengeance) with NPC spawns, fixed up all ladders and barrels;
Added a new Woodcutting teleport destination to Sorcerer's Tower;
EXP Stars and Lamps can no longer be banked;
Added a spade item spawn right around the entrance to Brine Rats;
Populated Yanille with all NPC and item spawns;
Added 2 new Smithing teleports - Yanille anvil's and Al'kharid furnace;
Replaced Ellis (the hide tanner) at Prifddinas center with Challenge Mistress Heriau;
Updated the Robust Glass Machine Crafting animations;
Mining Crystal-flecked sandstone now has a daily cap of 50 * donatorRank. Crystal-flecked sandstone is used to make Crystal glass, which is then Crafted into Empty Potion flasks. Crafting flasks has no daily cap.
Fixes
You may now use the Chaos Altar's second option 'Offer' to automatically start offering bones;
Fixed up all Shilo Village doors, gates and Agility obstacles with neat auto-walkables and animations;
Fixed Draynor manor doors and ladders;
Fixed Jungle spider, Jogre and Ogre combat animations;
Fixed all Spirit Shield item combinations;
The Smelting action will now automatically stop IF your inventory is full, you're not wearing Smelting gauntlets and the bar is not stackable.
You may now consume rotten apples;
Fixed Sorcerer's Tower ladders;
Fixed Orikalkum kiteshield upgrading.
- Media -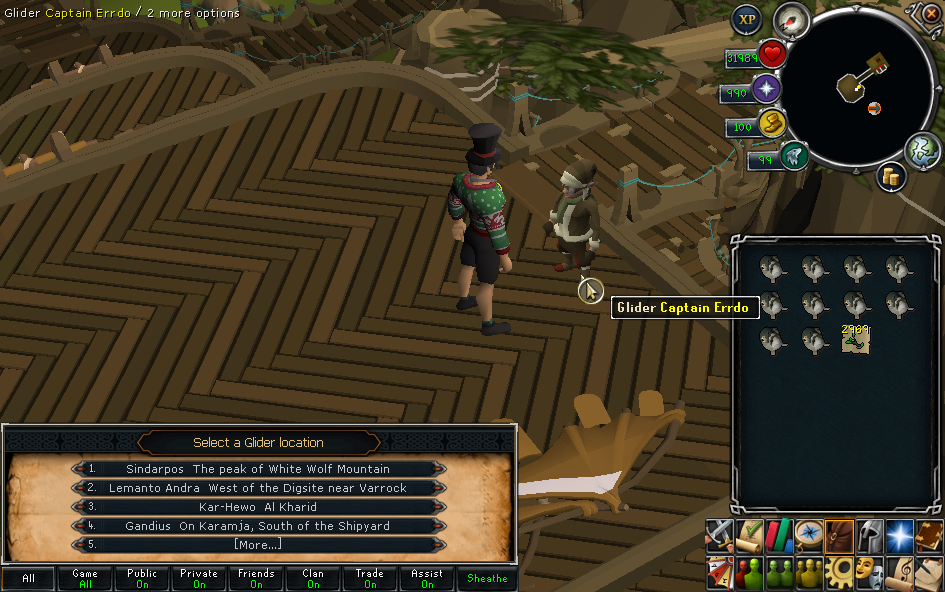 ------------------------------------------------------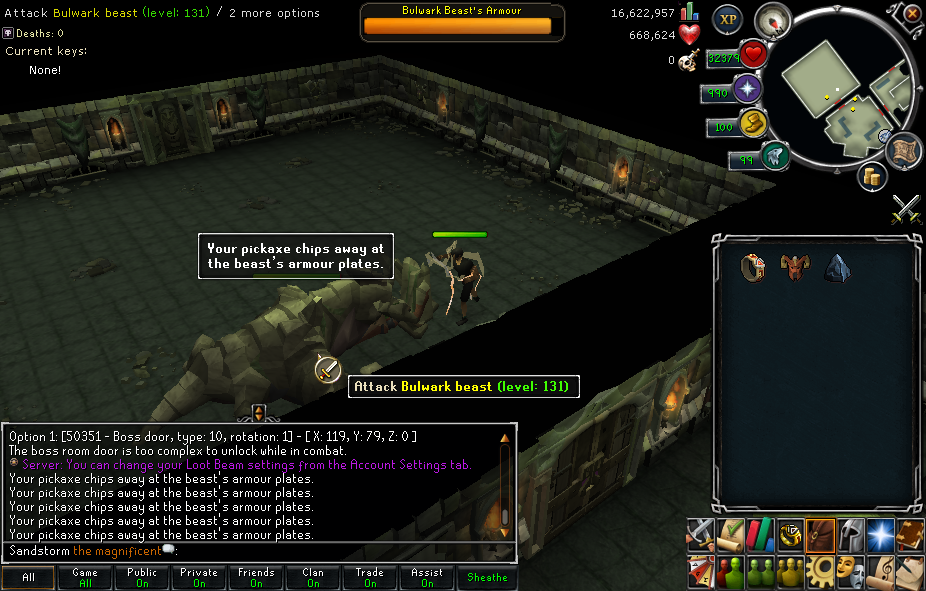 ------------------------------------------------------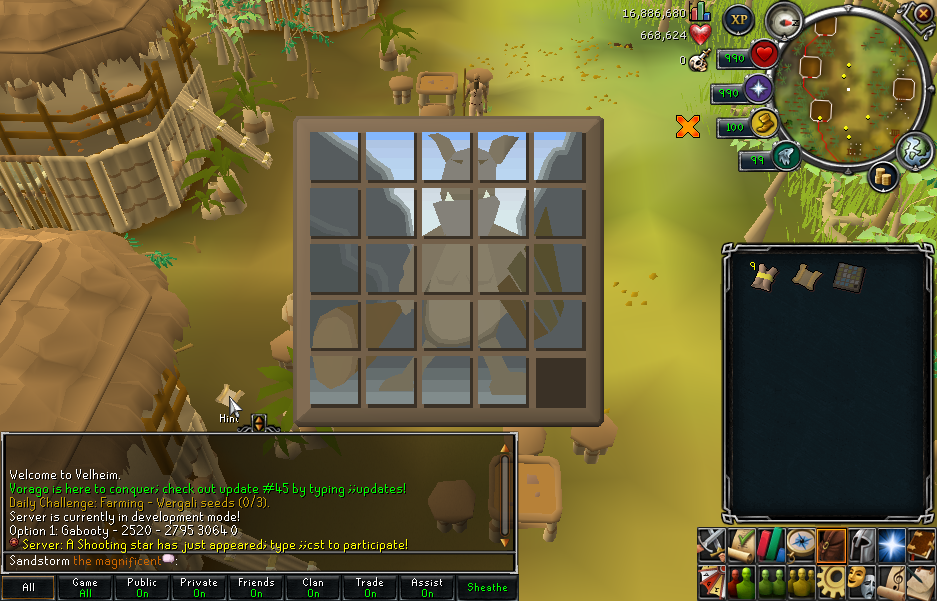 ------------------------------------------------------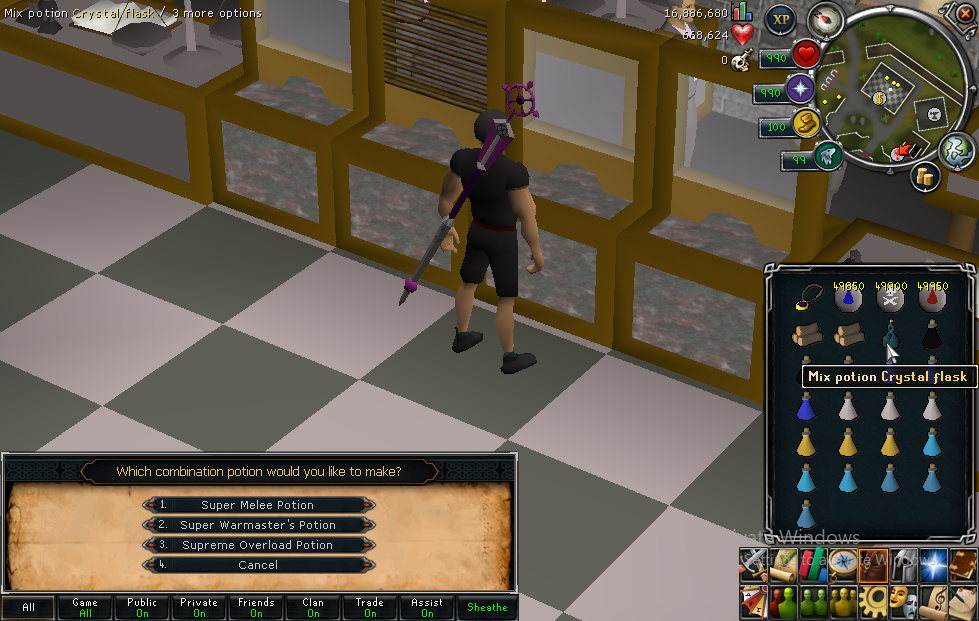 ------------------------------------------------------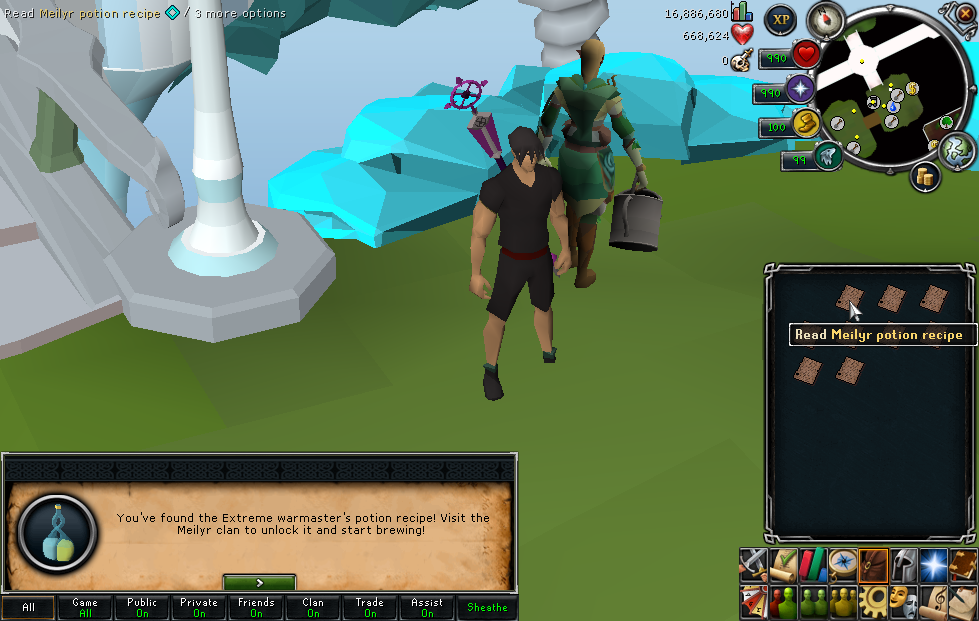 ------------------------------------------------------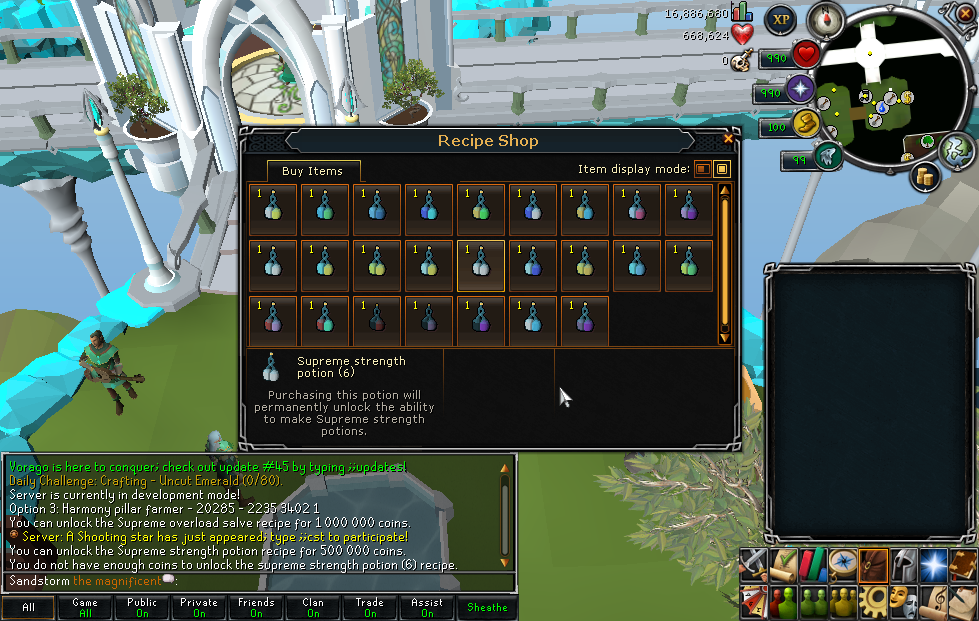 ------------------------------------------------------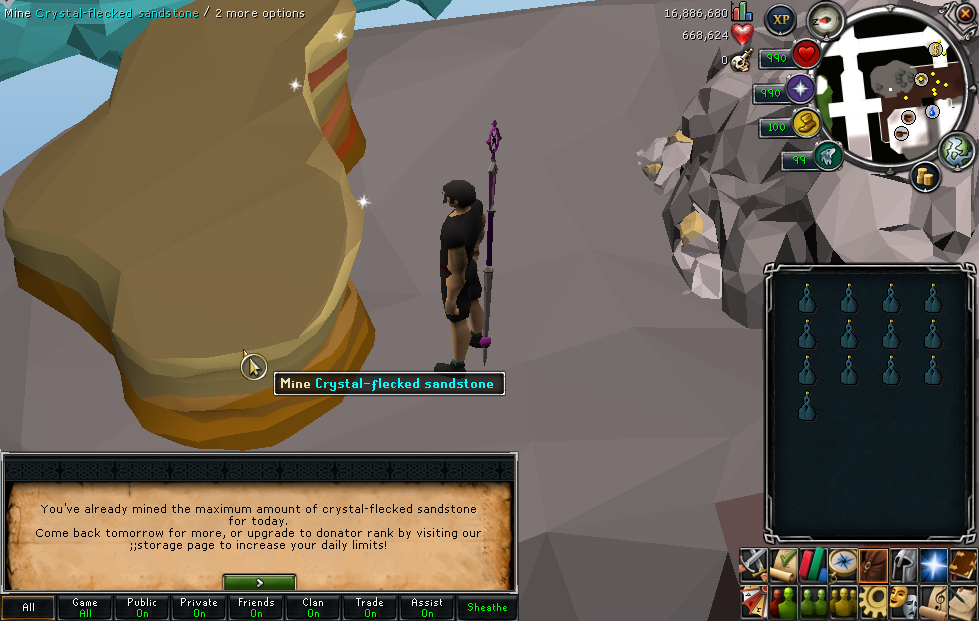 ------------------------------------------------------