A smaller update this time, expect some goodies in #50
Game-mode related
Introducing the new 'Classic' game-mode. New players will now be able to choose the Classic mode, which has a base EXP multiplier of x2 and a slight drop-rate boost of +5%. Existing players may also switch to the Classic mode in exchange for all their current EXP and levels, they can do so by speaking to Darude;
The new Classic mode has its own Hiscores page, its own chat icon and 'player-first' achievements (that are viewable on our Discord channel);
Added a small information dialogue for new players when selecting game-modes that will give a general hint to what each game-mode does;
All ironman modes will now have a +5% drop-rate increase.
Dwarf Multicannon
The Dwarf Cannon may now be purchased from Nulodion for 750k in total. Nulodion has his full RuneScape 3 dialogue;
Cannon works the same way as it used to in pre-eoc, dealing up to 300 damage per cannonball shot;
Players will now be able to Smelt cannonballs by selecting Iron ore or Coal at any Furnace via the ore bank;
Cannons have the same placement restriction as in the real game;
If a player leaves their cannon at the same spot for over 25 minutes, the cannon will disappear and will have to be re-claimed from Nulodion (will also work if the player looses connection or logs out with it placed).
Miscellaneous
Upgraded cache from revision 902 to revision 903 (Shadow Reef update - 25 February, 2019);
The NPC drop-table interface will no longer close while in combat;
Improved how the Wyvern crossbow inflicted poison to players current target;
Improved loot beams, with sky-box messages informing the player of the most recent 'beamed' drop (on resizable mode only), ability to swap between beam override types from the loot-beam settings dialogue and fixed the Reaper's rainbow beam;
Since revision 903 seems to have introduced new object types, there's now a new client up for grab that fixes those as well as object 'animations' for cannon and other minorities. Get it here: https://www.dropbox....elheim.jar?dl=0
Bug Fixes
Fixed an issue where dying in the Wilderness with an item that degrades would cause the server to freeze. Also made so all items degrade to dust or broken state on death when dying in the Wilderness (to any source);
Fixed combat animations for all Tzhaar-city monsters;
Corrected crawling hand, revenant, araxxor, all godwars dungeon - drop tables, as well as some other ones I've forgot to write down;
Fixed an issue where getting poisoned (effect) would not actually cycle and hit the Entity;
Fixed an issue with Magic spell casting; players will now properly receive the base cast EXP even if they've splashed/dealt 0 damage;
Improved the Lava Strykewyrm combat script;
Ascension crossbows will now degrade properly;
The Hexhunter bow may now once again be repaired;
.. and some other minor things not worth mentioning.
- Media -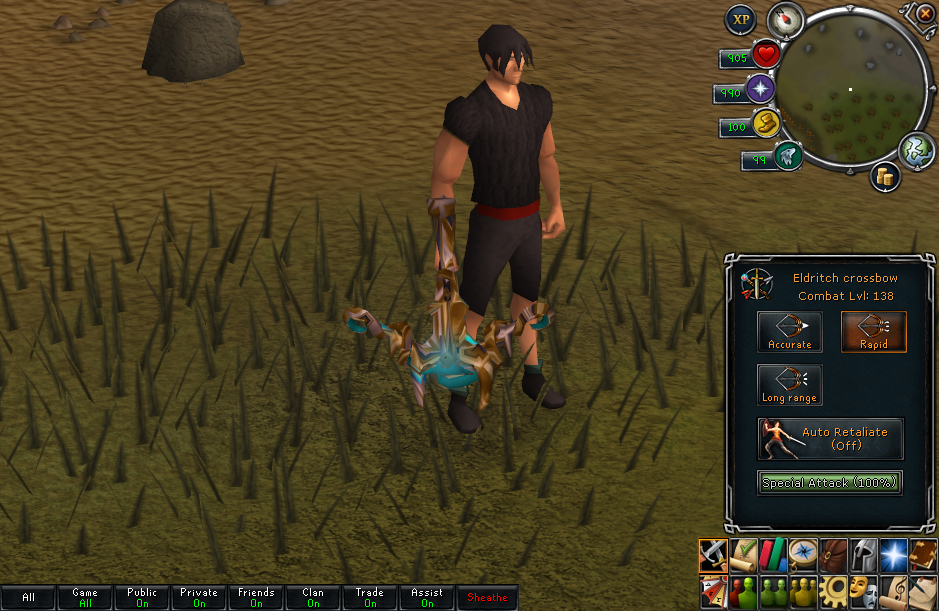 --------------------------------------------------------