Following up on RuneScape 3's update on 25th of March, here's the Firemaking update..
Firemaking general changes
Bonfire Fire spirits will now have a random chance of giving the player an XP boost for the next couple logs while doing bonfire actions;
Bonfire Fire spirits will no longer give items directly, but instead, will give Fire spirit items that will be placed into player's inventories and be open-able for rewards;
Mining stone spirits have been added to the Bonfire spirit reward table;
The Prifddinas Bonfire will now have a chance of saving your logs when training Firemaking;
Lighting curly roots will no longer have a chance to trigger a Bonfire Fire spirit;
Players will no longer be able to fully AFK all of their protean logs at once, the action will be capped at 60 cycles.
Incense Sticks
Players may now make Incense sticks out of any logs, this requires 2 logs of the same type, an X Firemaking level and will grant Firemaking EXP in the process;
The Incense sticks may then be coated in impious, accursed or infernal ashes with an X Firemaking level and granting Firemaking EXP in the process;
The coated incense sticks may then be combined with a clean herb with an X Firemaking level and granting even more Firemaking EXP;
The finished incense sticks may be lit for a special passive effect. Each stick lasts 10 minutes, the timer for each effect can be stacked up to 60 minutes at once;
There's a limit to how many effects the player can have at the same time based on their Firemaking level (up to 3 at level 95);
On RuneScape 3, each effect can go up in potency level for up to level 4, I've skipped this mechanic due to our effects limitation;
Guam: provides a 10% chance to get an additional log while woodcutting regular trees;
Tarromin: provides a 25% chance to receive ashes when doing bonfires/lighting fires;
Marrentill: reduces poison damage by 12.5%;
Harralander: increases run energy replenishment rate by 50% while resting;
Ranarr: provides an invisible +1 Prayer bonus;
Spirit weed: provides 10% increased familiar special attack recovery rate;
Irit: reduces poison damage by 25%;
Kwuarm: provides +2.5% boost to weapon poison damage;
Snapdragon: restores stats 50% faster;
Cadantine: provides a 2.5% chance to not exhaust a resource;
Lantadyme: increases all potion timers by 1 minute;
Dwarf weed: provides a 2% chance to bank gathered items;
Torstol: provides a 1% increase to base XP gain;
Fellstalk: provides a +1% spawn chance to elite NPCs;
All other effects have been skipped due to them serving no actual purpose on an RSPS. I believe most of the ones I added will never get used either way, but we'll wait and see - perhaps Jagex re-works them or gives them better values;
To learn more about incense sticks, check out the Wikipedia here: Incense sticks.
Miscellaneous
Updated the Cache revision from 903 to 904 - RS3 update: Firemaking Week & PvM Revitalisation;
Vorago's rare drops have been moved from rare to the very rare drop table;
Choosing the 'Craft' option on any log will now bring up an options dialogue with what to do with the log - firemaking, fletching, bonfire or incense sticks;
All blood necklaces are now create-able and have their active healing effect;
Soulgazer charm drops (Baby Soulgazer pet unlock item) will no longer drop if the player owns the item or the pet, and will now announce as a pet drop in the world feed;
Item right-click 'Buy-X' option in Shops will now display the enter amount screen instead of buying as much as you can;
Completely removed the Dramen tree from the Donator zone;
Added Menaphos's Acadia trees to the Woodcutting teleports interface. Acadia logs can now be made into arrow shafts and used in Firemaking;
Both Dragon trinkets can now once again one-shot most dragons with a 5% base chance per hit if the NPC has above 80% hitpoints;
Added Gnome & Tortoise NPC spawns at the Khazard Battlefield;
Opening the Meilyr Potion recipe shop will now display a chat-box message saying how many recipes you have unlocked and how many are there in total (Dungeoneering & Regular);
Flying type NPC's may now be killed with Magic as well.
Fixes
Fixed an issue that caused off-hand weapons to have a slightly higher combat delay than they should have been;
Fixed an issue that wouldn't let players sell items that are classed as degrade-able's to the General store;
Fixed an issue with porters where they wouldn't properly get removed on depletion;
Signs of the Porter will no longer count as daily divine locations;
Fixed an issue where special handled NPC deaths would not count to your total kills;
You can now train Cooking on the Prifddinas balcony Bonfire;
Home Thieving stalls will no longer give any coins if you're under the required Thieving level;
Fixed Hill giant, Moss giant and Fire giant drop tables;
Fixed an issue with the Well of Good Will hiscores not properly updating;
Replaced the 2 hill giant spawns in deep wilderness dungeon with 6 fire giant spawns (Wilderness Slayer);
Mining will no longer drop the ore if your inventory was too full to add the ore. This fixes an issue where mining with stone spirits while having 1 free inventory slot would endlessly mine and drop ore until out of spirits;
Checking charges remaining on an amulet of souls (or) will no longer split it from the kit;
Fixed lucky dragon 2h sword's special attack;
Combining a magebane potion with red moss will now make the normal artisan's potion instead of the weak one;
Fixed Summoning Minotaur combat animations and bonuses;
Catching Kebbits at the Falconry will no longer force-walk the player in 'melee-distance', you'll be able to do it from afar (as long as the path does not collide with an object);
Fixed an issue where burying wolf bones would not grant any Prayer EXP.
- Media -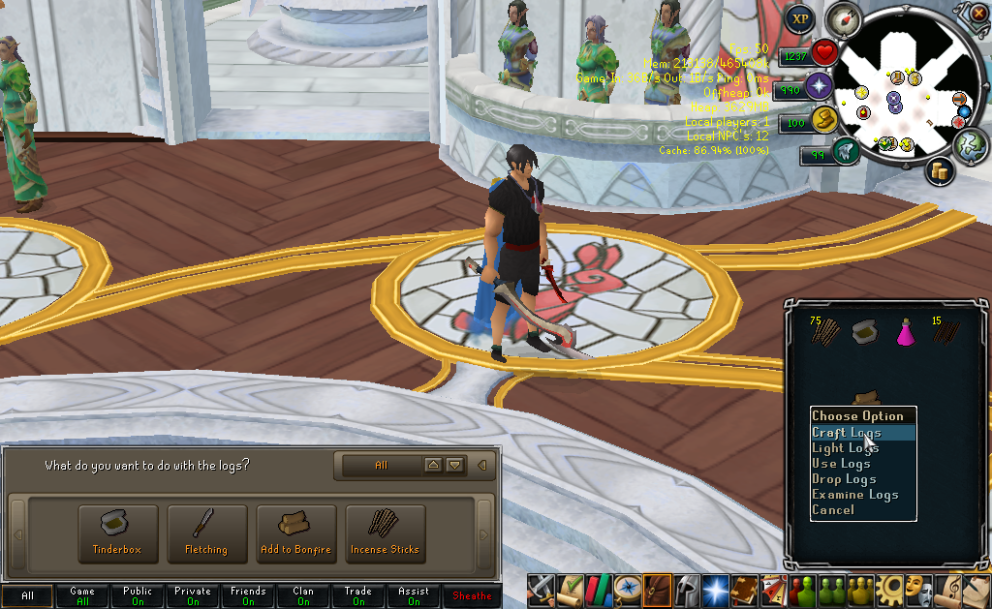 --------------------------------------------------------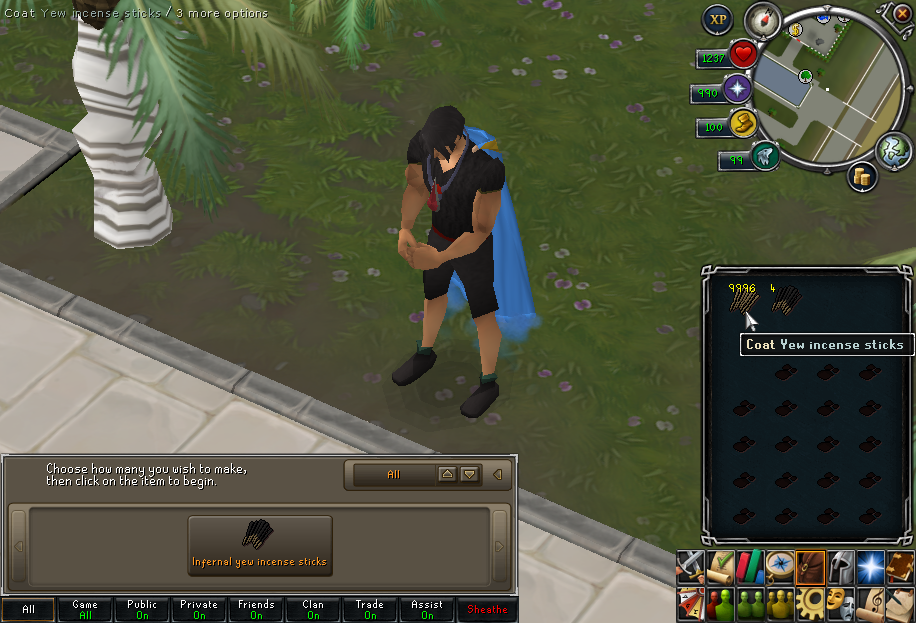 --------------------------------------------------------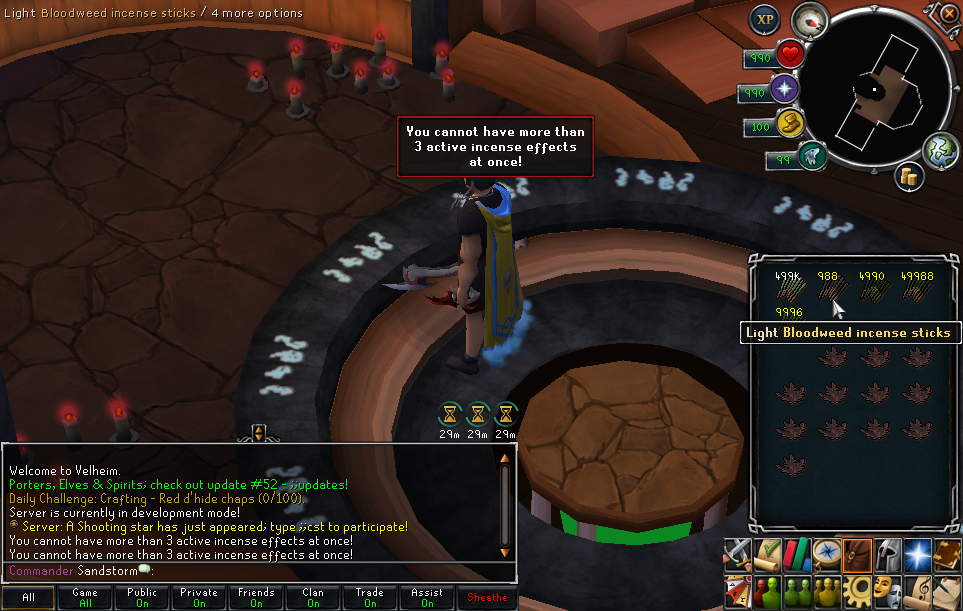 --------------------------------------------------------