Vorago
Vorago has been released, with daily rotations. All 6 rotations have been fully coded (as close as humanly possible) - read more about Vorago here: Strategies for Vorago;
You may access this new boss via the Note's tab -> Boss teleports interface and joining the public instance, or creating your own for 1'000'000 coins;
Instance can hold up to 25 people at once and will be active for 60 minutes (or until everyone leaves);
Challenging Vorago will deal 5'000 damage, split between everyone in the room (who accepted Vorago's challenge);
Vorago will commonly drop Tectonic Energy, which can be Runecrafted into the new T90 Magic armour. This armour will degrade to dust after 100'000 charges IF not dyed with a Treasure Trail dye, which in that case can be repaired by using more energy on them;
Our new boss can also drop Seismic wands and Seismic Singularities which are the new T90 Magic weapons. These weapons will degrade to a broken state after 60'000 charges, are dye'able with Treasure Trail dyes and repairable at Bob;
As with any boss, Vorago will also have a chance at dropping one of his 2 boss pets;
A signpost with highest kill-count has been placed just outside of his entrance;
Vorago might still need some fine-tuning, so let me know if you find anything out of order via the ';;bug' command!
Special thanks to

Dynasty,
IZerkOff and Effy for testing him out on the BETA server and giving me input!
Item Repairing & Similar
Bob will no longer repair dyed T90 power armour in exchange for raw gold;
To repair dyed T90 armour, players will now have to use the respecting item that was used to make the armor (ex. to add charges to Barrows dyed Sirenic chaps, the player will have to use Sirenic energies. The amount of charges given per energy is calculated as follows: MAX_ITEM_CHARGES / AMOUNT_OF_ENERGY_REQUIRED_TO_MAKE = CHARGE_PER_ITEM);
Non-dyed T90 armour will still degrade to dust after 100'000 charges;
Bob will no longer repair Reaper jewellery in exchange for raw gold. Players will have to charge them with Cut Onyxes. 1 onyx equals 50% (50'000 charges);
If the item you're trying to charge is not degraded enough (PLAYER_ITEM_CHARGES + CHARGE_PER_ITEM > BASE_ITEM_CHARGES), you will not be able to recharge it;
Tons of high-tier equipment that is degradable and you have used in combat - have been made untradable. To make them tradable, you will have to repair them at Bob (this is mostly to avoid confusion on the Grand Exchange sell offers as degraded items would still be able to be sold, but not bought);
I understand this change will be heavy to some players, but this is how things work on RuneScape 3.
Shops
Fixed all item ID's in all World Shops that showed up as 'nulls' or 'pink skirts' due to the Mining & Smithing update;
Added 'Feather packs' to all world shops containing feathers in them. These packs may be opened for 2'000 feathers each;
Players may now once again purchase Mastery capes from the Wise Old Man.
Miscellaneous
Updated Cache Revision from 901 to 902 (link to RuneScape 3's patch notes: Patch Notes - 21/01;
Re-added (world)map icons (sorry for that!);
Updated the Death's Office with similar functionalities as RuneScape 3; no longer be able to directly teleport out, no longer be able to open the world map, and a couple behind the scenes fixes/changes to make the whole thing smoother;
Added hard-cap damages to lots of different mini-game NPC's;
Replaced Obsidian shards in the Ore Bank with Blurite ore. Obsidian shards are not smelt in regular furnaces anyway (they'll make a return if people want them);
Increased Prifddinas harp Construction EXP gain from 5 to 50 (same as RuneScape 3);
Tier 99 Prayers are now enabled (they will stay available until Nex: Angel of Death release).
Fixes
Removed Fever Spiders from Chaeldar's Slayer task table;
Fixed Wilderness Agility course's gate;
Fixed Fishing Guild's gate. You will now require the correct Fishing level to enter;
Fixed Granite rock mining; you'll now receive one of the 3 sized granite randomly;
Fixed Magic Guild doors. You will now require the correct Magic level level to enter;
Fixed an issue with Rare Item tokens store not properly recognizing the amount of tokens you have in your inventory. Also removed some of the options on Rare Item tokens since they're useless to us;
Updated Dungeoneering Mining to work with the newest update;
Placing Hunter traps will now stop all players current actions (specifically moving);
Runecrafting Nature runes will now require the correct level;
Updated all Smithing & Smelting Daily challenges to new smithables and corrected the level/requirement values;
Disabled the Duel Arena Treasure trail step;
Fixed a couple 'special' Door handles (such as RFD, for example);
Bane Armoured boots + 2 can now be properly upgraded to + 3 and then + 4.
- Media -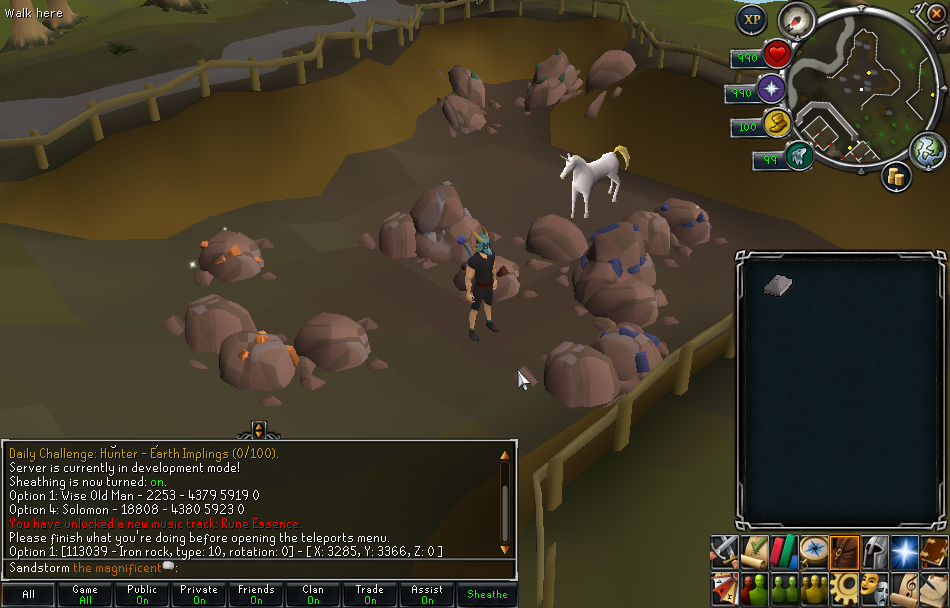 ---------------------------------------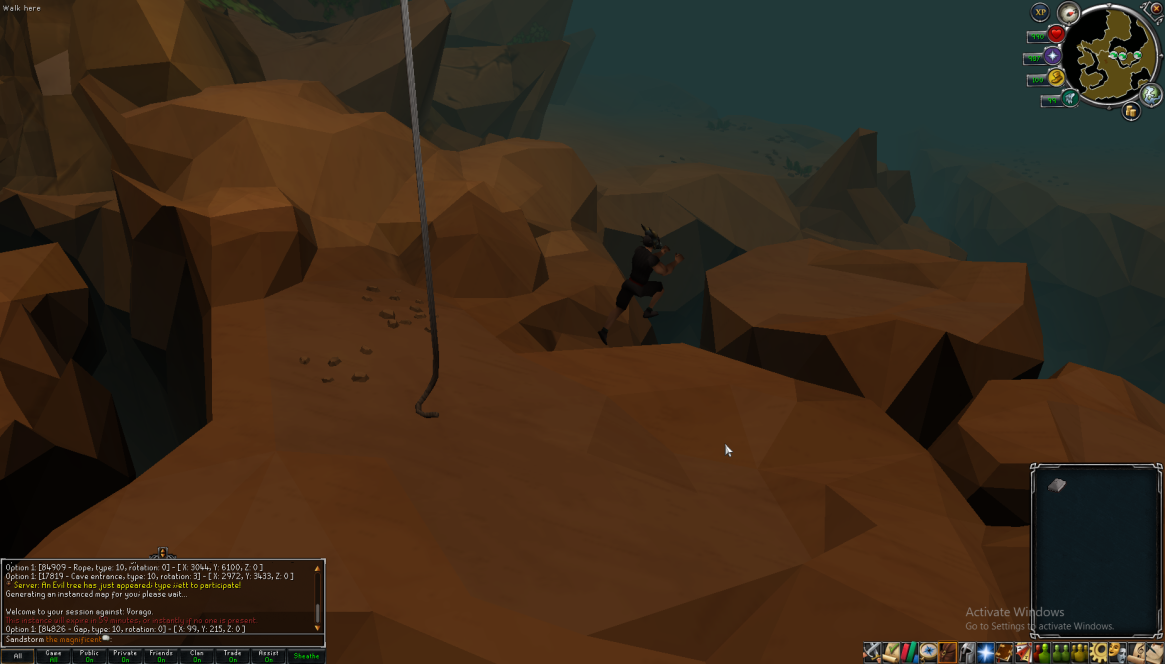 ---------------------------------------
---------------------------------------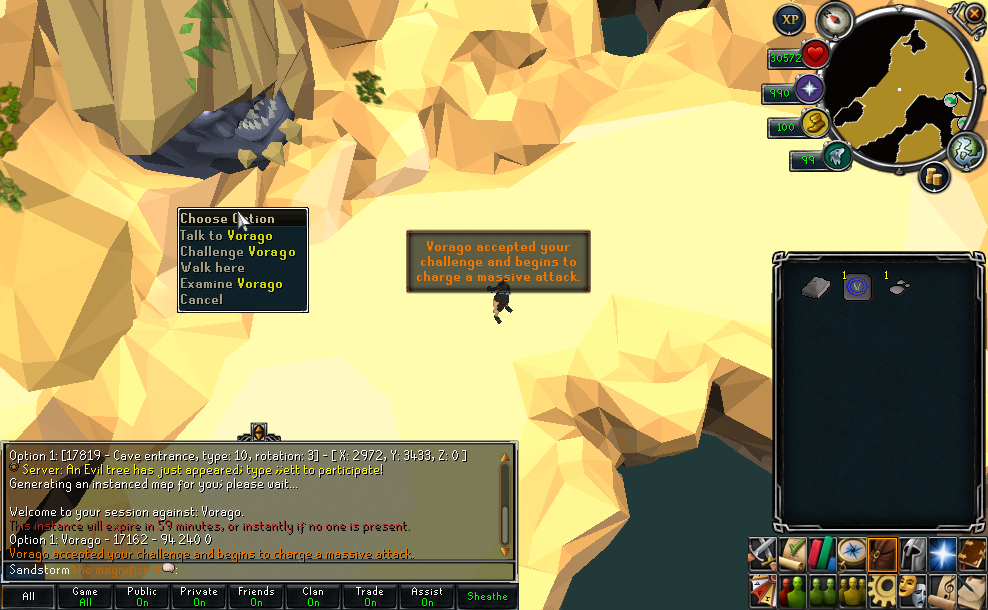 ---------------------------------------